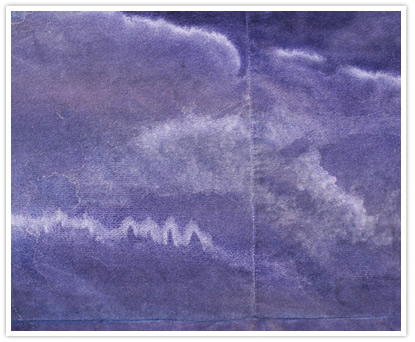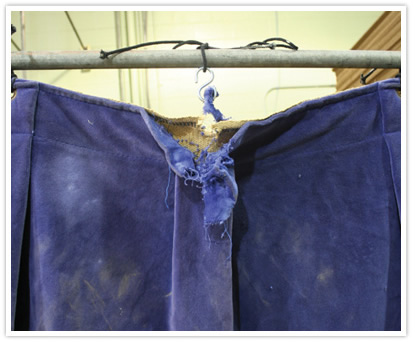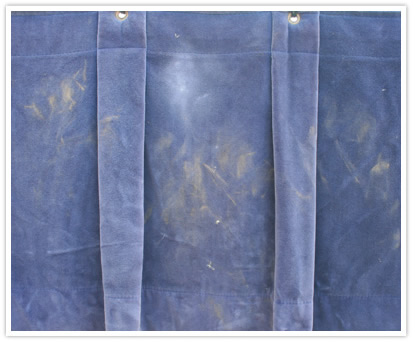 Got the stage curtain blues? Above you can see examples of dirty curtains, water damage, gommet and bottom hem tears. We can help restore your curtains to former beauty!
A sample of our cleaning client list:
The Kennedy Center
Shenandoah University
Martin Luther King Performing Arts Center
Colonial Williamsburg
James Madison University
Landmark Theater
Albemarle House
Mount Vernon
---
Stage Curtain Restoration
Stage Curtain Cleaning, Repairs, Flame Retardant Treatments And More
Restore your stage curtain, draperies, acoustical curtains and curtain room dividers for a fraction of the replacement cost. Our Total Care Process will add years of great looking appearance to the life of your drapery and curtains. If your theatrical curtains, school curtains, church curtains need a clean "nearly new" look, call LuXout 1-800-817-1204.


The LuXout Total Curtain Care Program includes cleaning, flame retardant treatment and custom repairs. We restore curtains that have been damaged by dirt, dust, water, smoke to nearly new condition in most cases.
The LuXout 10 Step Total Care Process includes:
Complete curtain inspection with all issues noted
Submission of complete maintenance report and suggested maintenance plan
Pretreating and cleaning of spots and stains
Tumble drying to remove surface lint and restore fabric nap
Custom repair of rips, tears, seam issues, etc.
Flame retardant testing and treating if necessary
Replacement of curtain hardware as needed or requested
Curtain final inspection and brushing to restore nap
Preparation of curtain inspection certificate including flame retardant treatment if applied
LuXout's special packing method to nearly eliminate creases
We have been cleaning and repairing stage curtains for years. Combined with our manufacturing of stage curtains, this gives our customers the one stop CLEAN, REPAIR OR NEW stage curtains resource.
Simply take down the old curtains, box them up and send them to us and we will clean and ship back to you within a week of receiving them for you to re-hang. Cost of a typical cleaning runs about half (1/2) the cost of a new stage curtain.
Proper and Professional cleaning of stage curtains can significantly extend the life of the curtains. We recommend curtains be cleaned about every 7 years with regular vacuuming between professional cleanings for the best possible longevity of your curtains.
Quote a Stage Curtain


Free Fabric Samples